Testwise upgrade 2021
We're introducing new features to save you time and improve reporting, ready for use in December 2021. Here's everything you need to know.
Saving you time
1. Setting up a sitting
We're simplifying how you set up a sitting so now all the information you need to fill in will be on one, easy-to-complete page.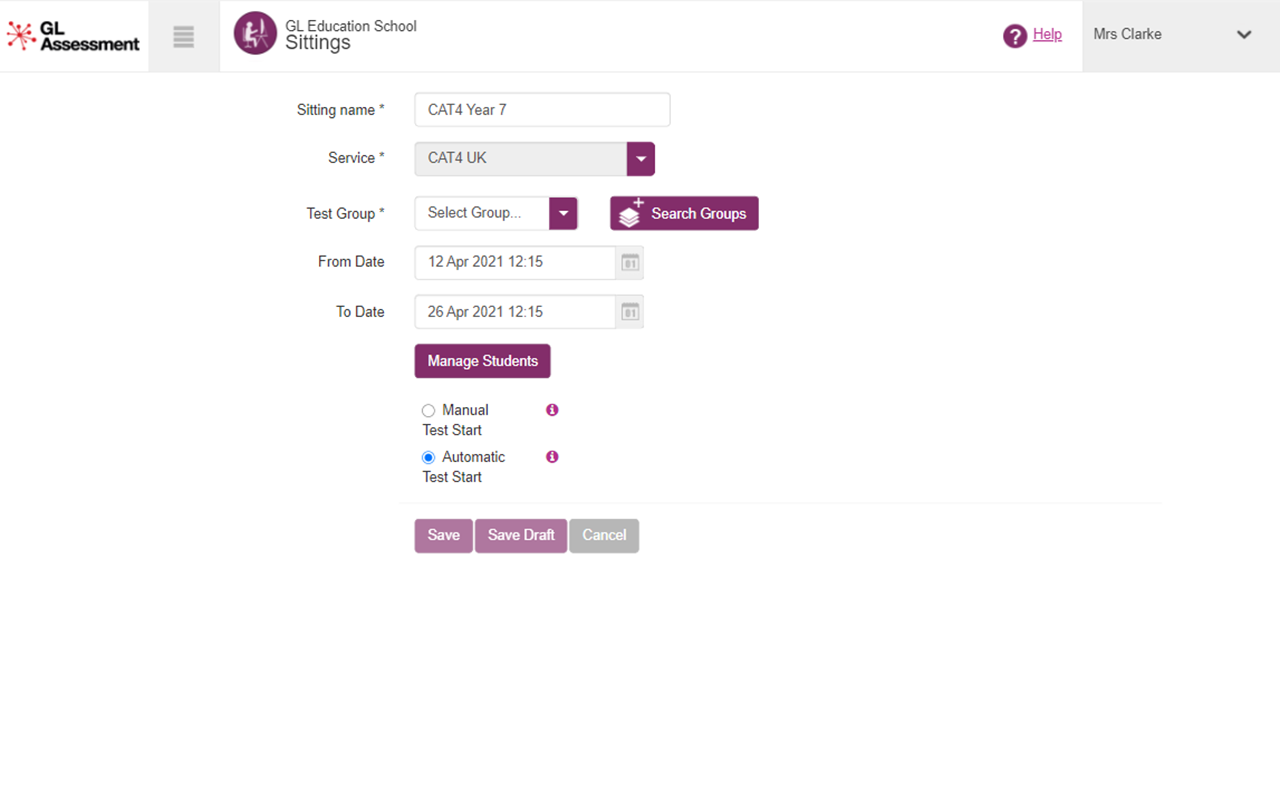 2. Accessing your reports
We'll also be streamlining the reporting section, enabling you to quickly run new reports or Excel requests and view past data all in one area, bespoke to you. You can easily choose between a standard report or combination report (if you have more than one compatible assessment).

3. Choosing the filters that are right for your school
Flexible date range selector
Reports are no longer divided by academic year, meaning that you will be able to run historical reports at any time. So if a teacher or a parent asks to see a student's CAT4 report from 2018, for example, you can deliver it within minutes.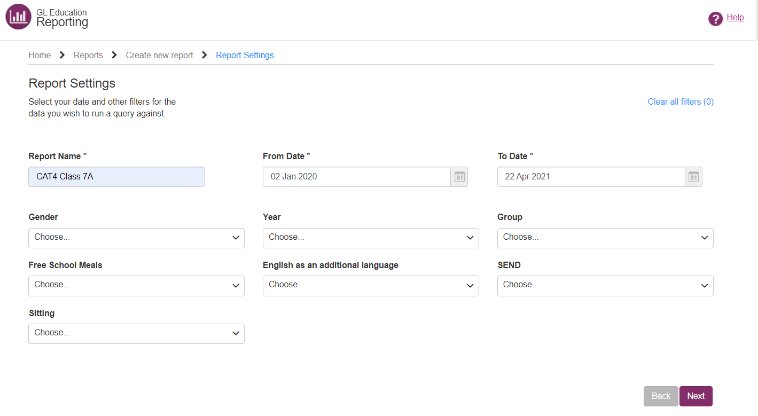 Personalised filters
We know that every school is different, so we don't want to take a one size fits all approach on Testwise. That's why, when you create a report, you will only see filters which are applicable to you and your students. Using these filters, you will then be able to create bespoke reports for different groups of students in your school.

New online reporting
1. View all your students' reports online
We're moving all reporting online, making it much easier for you to access your students' data.
You can simply click on a student's name to expand and see all their data in front of you, and you can also sort your class or year group by key characteristics (such as gender or SEND) or by their results in order to help identify intervention groups based on individual scores.
(If you still want to access your reports as a PDF, that option remains available, too)

2. Focus on the data that will help you most
We want you to be able to focus on the data that most interests you. That's why we're introducing interactive filters which enable you to drill down to group or even individual student level.
See, for example, the CAT4 group report on the right, where students' results are displayed on a scatter graph. By hovering over any of the dots in this CAT4 report, you can see an individual student's name, SAS scores, and how they compare to other students in the year.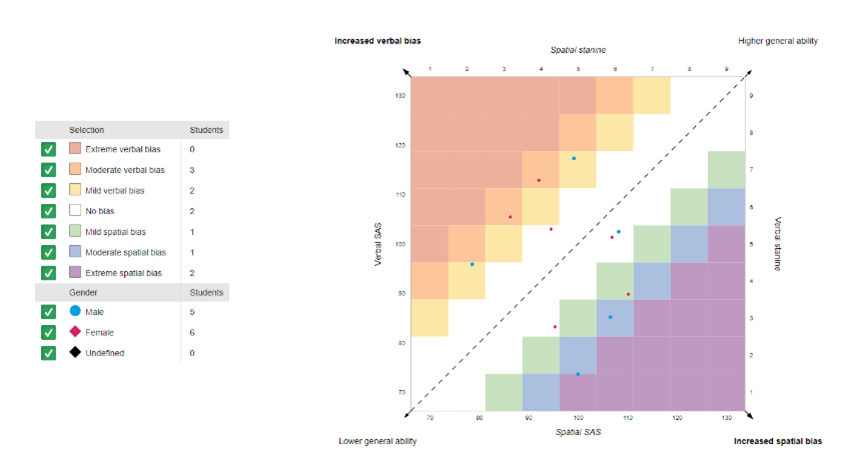 The filters on the left-hand side also enable you to focus in on specific student groups and you can use this to identify students who share similar profiles - for example, all students in a year with an extreme spatial bias.
Similarly if you're using PASS, your data will now be much more granular. In the example below, you can hover over any of the questions in the reports to clearly see which question your students were answering. This then enables intervention to be much more targeted to particular issues that may be holding a whole class or year group back, for example improving teacher feedback and encouragement as shown in the chart.

Improvements for school groups
1. See all your schools' data at once
Whether you are responsible for a Trust in the UK or an international school group, the ability to see an overview of all your schools at the same time is extremely powerful. We're very excited to be launching a dashboard which will enable you to either view a single school or view all your schools or a specific selection at the same time.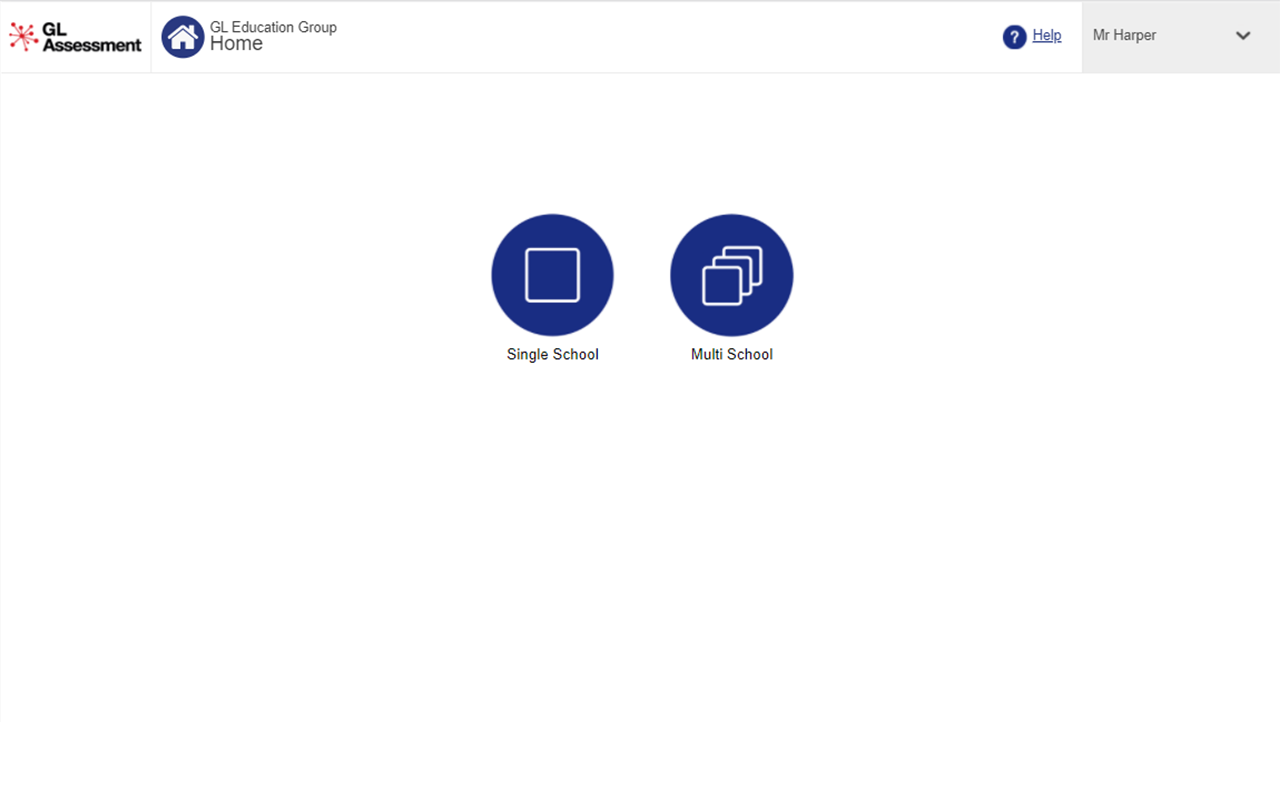 Like this, you will now be able to switch more easily between your schools, while managing and uploading students and data at a multi-school level.
See the changes in action
We've created three videos, demonstrating some of the benefits of the changes coming your way!
Interactive reports overview
Find out more
We're excited for you to see all the new changes coming to Testwise and we want you to feel as ready as possible for the launch in December 2021. That's why we're going to be launching a series of training videos in autumn 2021. The training videos are not yet available, but please bookmark this page should you wish to know as soon as the content is live. You can also fill in this form to receive regular updates about the Testwise upgrade as well as the training program once it has been finalised.