Main Functional Areas
There are six main functions in Testwise. Depending on permissions assigned, some of these options may not be visible to all system users. All user levels, including the Teacher user, have access to:
Students
Sittings
Reports
Services
The School Administrator user has access to two additional areas, which are Users and Manage Schools. This means that the School Administrator can create new users and define which logo appears on reports.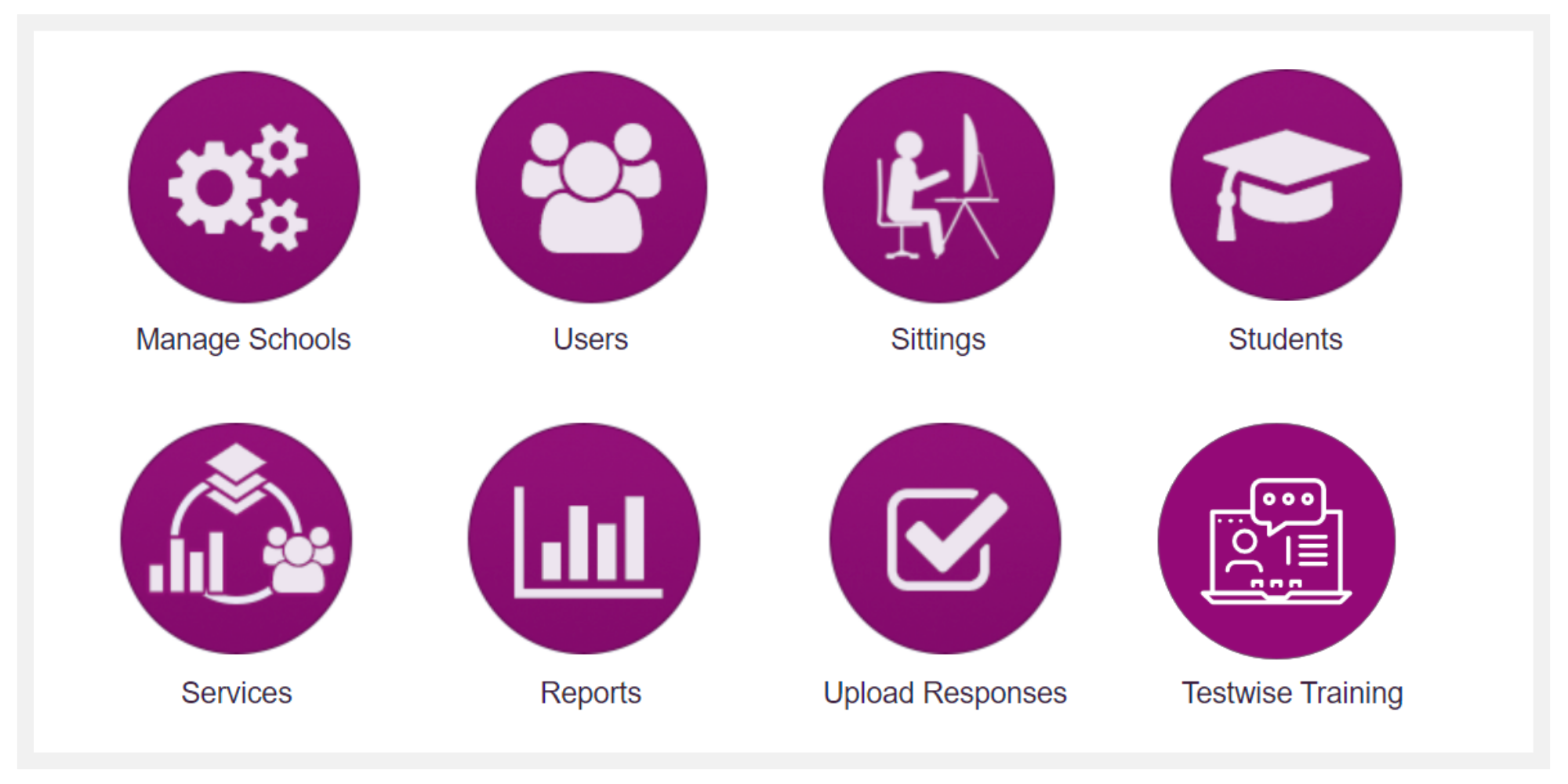 Testwise includes the following main functional areas:
Students lists the individuals who take the tests within Testwise. Here, you can add new individual students, import a batch of students, or change existing student details. Once added, a student can be assigned a sitting to take tests.
Sittings are used to define which students take which tests and when these tests are taken. Once a sitting has been created and started, each student will be able to log into the Test Lobby and take their tests. 
Reports can be used to collate, analyse and present student test results. Many reports also provide comparisons of student test results against national test results.
Services enables you to view the details of the tests and reports that have been purchased by your school. Most services contain various levels of tests, types of tests and a variety of reports. Each service contains one or more subscriptions, which are each for a specific time period. You can view your purchased services, the number of credits you have available for each test and the expiry date of all tests by clicking on Services.
Users are the individuals who use the Testwise system. The Users area enables you to see Testwise users at the same level or the level below yourself. You can create new users and reset passwords, if required. You can view the Users area only if you have School Administrator privileges.
Manage Schools enables you to view or change account details. These details include the name of your organisation, contact details for your Testwise account and some report parameters, such as the report logo. You can view the Manage Schools area only if you have School Administrator privileges.