Your training journey
From free online videos for our core assessments, to live virtual and face to face training sessions if you're using one of our packages, we've got your training needs covered. 
With time pressures and workload a top priority issue for teachers everywhere, we want to make sure our training is as accessible and convenient as possible for you. That's why this year we've launched new online training videos for you to watch at your convenience, share easily, and return to as often as you like. 
Our step-by-step training videos provide easy to follow information and support to ensure accurate administration of your assessments, analysis and interpretation of results, and identification of next steps for staff and students alike.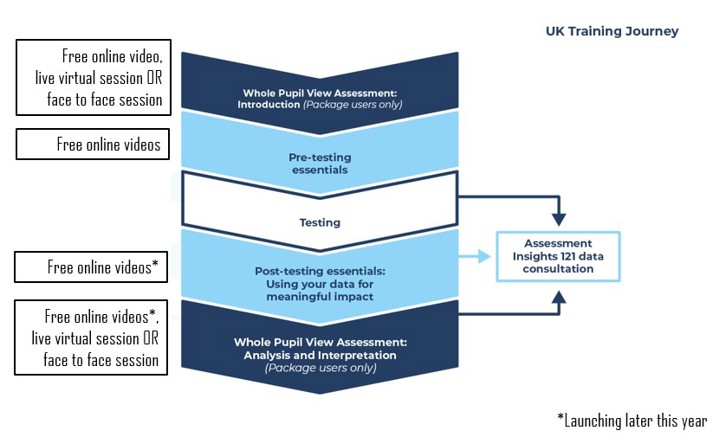 Assessment Insights
Once you've explored our online training videos, we also highly recommend booking in a free one-to-one data consultation with our Assessment Insights Education Advisers to help you maximise insights from your assessments. Please click here to find out more and to book your consultation. 
"Very clear, cohesive and insightful consultation from people who have been in the job and understand the implications and next steps data can drive." 
Whole Pupil View training for packages
Our "Whole Pupil View" assessment training is for package customers using multiple assessments. This training focuses on the combined power of our assessments and rich information gathered through triangulation of your data. So, you'll still want to explore the pre- and post-testing essentials training for each core assessment!