Create a Cross Customer Report
Cross Customer reports are used when there is more than one school included in the report, for example one report showing five schools in a Multi Academy Trust.
To create a cross customer report
Select Multi School from the initial Testwise Options . If that option doesn't show on login to testwise, your account does not have cross-customer reports available.
Select Create New Report to view the report settings options below.
Note: this page is used to request Excel, PDF and HTML reports
ONLY CROSS-CUSTOMER REPORTS ARE AVAILABLE HERE. If you wish to view a single school's full suite of available reports, select Single School on the Testwise Homepage.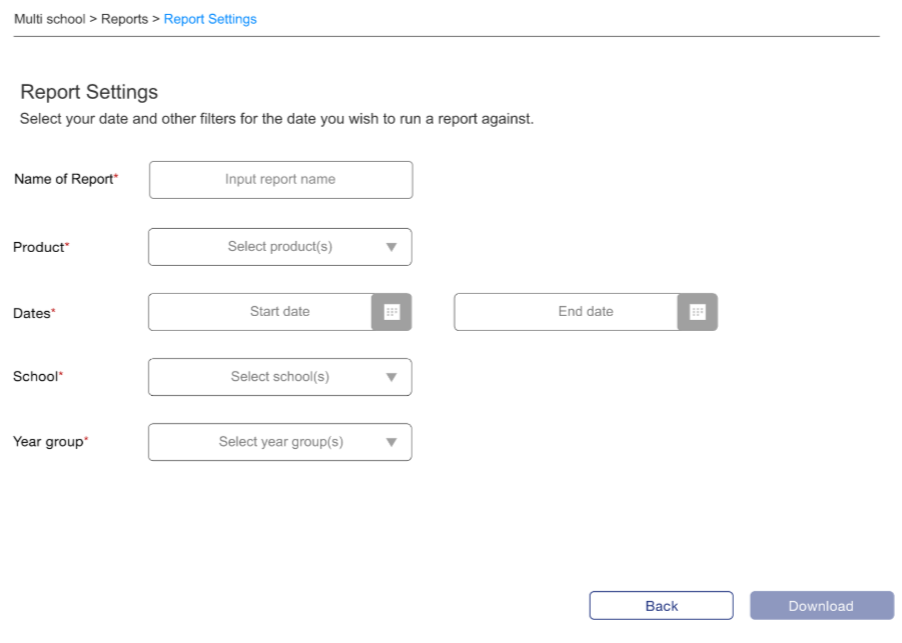 Requesting the report
Give the report a name. This is mandatory, free text and must be unique within your testwise account. Do not use special characters and there is a 100 character limit.
Select the product on which you wish to report. Only one product may be included in each report. The list will automatically reflect those products for which you have valid data.
Depending on the product you have selected, you may then be asked to select the product level. Only one product level may be included in each report. The list will automatically reflect those products for which you have valid data.
Using the Start date and end date selectors, define the period to include in the report.
Select which schools you wish to include in the report (multiples are permitted)
Select which year group(s) you wish to include in the report. Multiples are permitted but remember that all students need to have taken the same level of the test for the report to show them together.
Select Download .
If the report is an Excel or PDF, they will begin to download into My GL Documents on the main reporting page. If the report is online, a new tab will open with your report content. The system will make this choice automatically for you and it is not possible to amend it.
To return to your account home screen, click the Home button