Example of an extreme verbal bias profile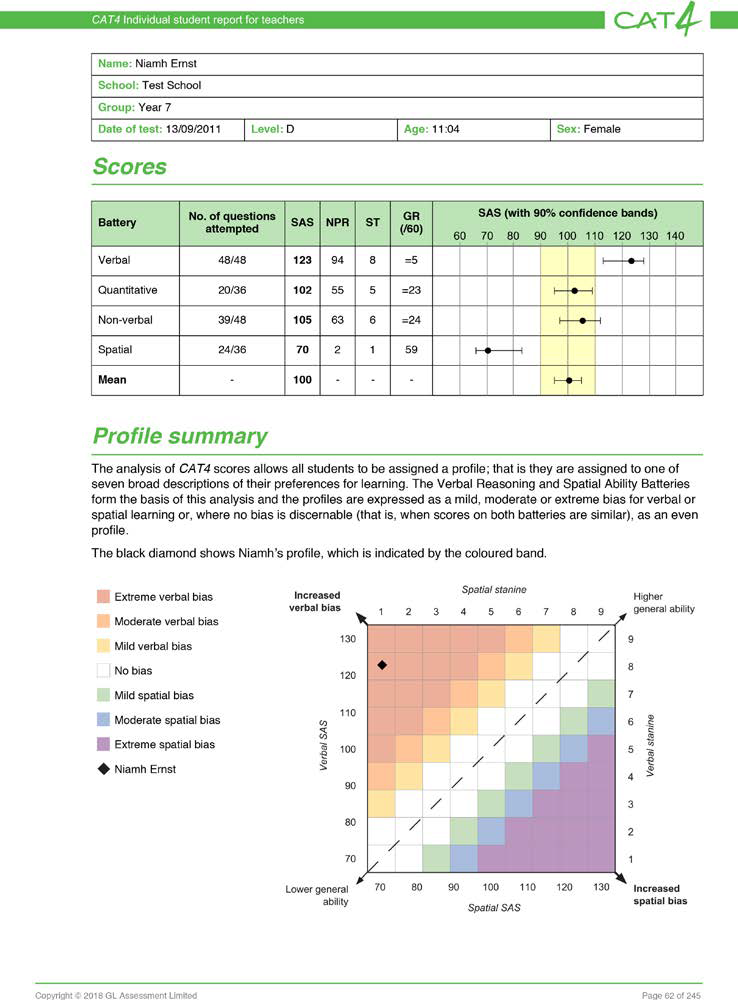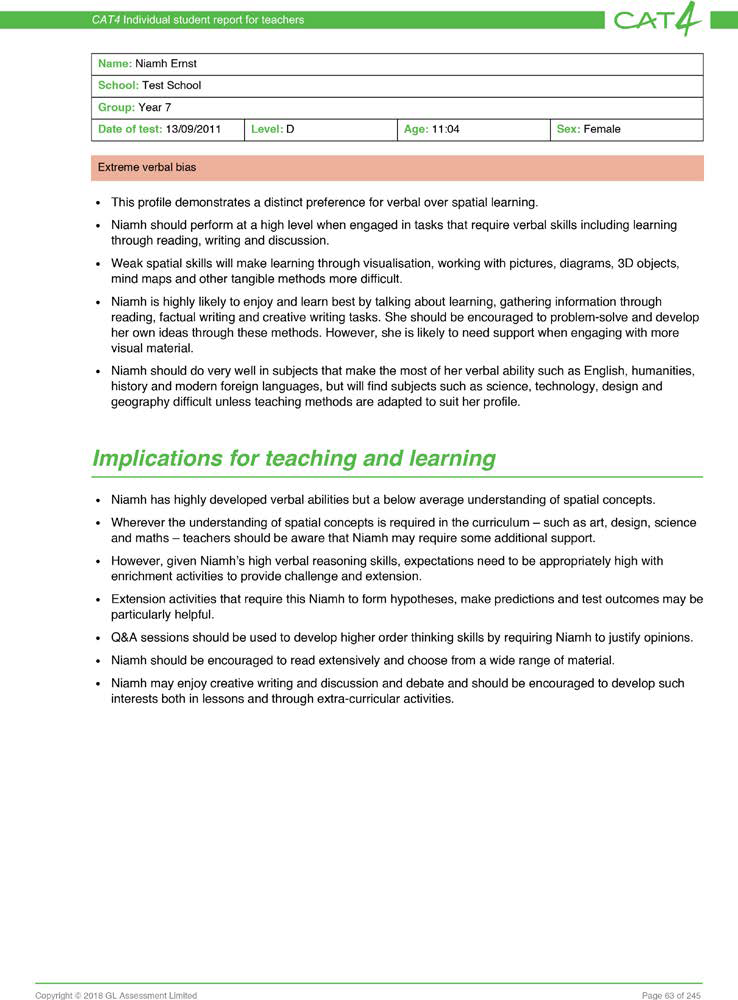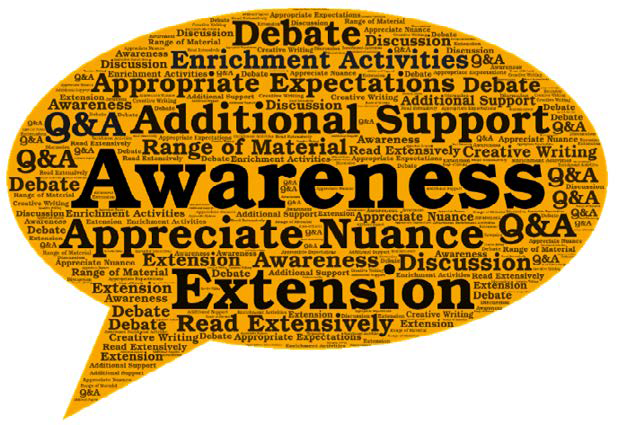 What does this look like in the classroom?
Students like Niamh Ernst who have an extreme verbal bias/strength in verbal reasoning will tend to be good at developing ideas and lines of thinking in continuous text and explaining a process logically.
One of the best ways to build and share these verbal reasoning skills is to participate in real reasoning dialogues. One of the ways in which this can be done is through what are called Fermi questions, after the Nobel Prize-winning physicist Enrico Fermi who challenged his students to use common sense, estimation and numerical reasoning to work out the answer to quantitative problems that were difficult or impossible to accurately measure.
He asked them questions that had a limited amount of information so that students had to think of additional questions to get closer to the answer. The focus was on the process of questioning rather than achieving a wholly accurate answer, with the aim of developing both creative thinking and problem-solving skills.
Fermi questions can range across many subjects and disciplines, but these examples should both inform and inspire!
How many ping pong balls would it take to fill your classroom?
How many people would fit shoulder to shoulder in the corridor outside your classroom?
If all the people in the world moved to Wales, how crowded would it be?
How many litres of water does the school use each week?
How many hairs are on your head?
How long would it take to count to one million?
How many Mars bars would it take, lined up end to end, to reach from London to Birmingham?
How many grains of rice in a 25kg bag?
Fermi showed that by making sensible assumptions, reasonable estimates and using some simple calculations, remarkably accurate answers can be reached. The value of this kind of investigative approach is obvious – but there is an additional benefit for a student like Niamh. With her very low spatial reasoning score (70), Niamh needs to use her verbal and quantitative skills to develop her spatial abilities. The opportunity to work in a small group with a balance of CAT4 profile student strengths and with a range of specific group roles (see page 67) will build her spatial confidence and progressively enhance her spatial skills. It should also be noted that Niamh's average quantitative score is severely compromised by the fact that she answered only 20 of the 36 questions. This clearly indicates that her quantitative ability is likely to be significantly higher, and in this kind of situation it is essential that teachers identify the cause of the problem before making assumptions about support strategies.
This is where the CAT4 profiles can be particularly useful in ensuring that student combinations are supporting both intellectual and social skills development.
Examples of strategies for extreme verbal bias profile
When a student's verbal reasoning is very much higher than their spatial ability it is likely that reading extensively and from a wide range of material will play to their strengths and help improve their reasoning skills more generally.
Supporting advanced reading skills
Evidence from science, technology, economics, public policy, culture and education shows that an initial advantage enables people to continue to gain further advantages over their peers. In terms of reading, Rigney notes:
While good readers gain new skills very rapidly, and quickly move from learning to read to reading to learn, poor readers become increasingly frustrated with the act of reading, and try to avoid reading where possible. … students who begin with high-verbal aptitudes find themselves in verbally enriched social environments and have a double advantage.
Rigney (2010)
It makes good sense, then, for teachers to use the CAT4 profile scores of different students to create groupings that benefit all learners in a group, with the aim that, through meaningful activities with clear aims, students become 'word rich'. We can easily endorse Rigney's view that "good readers may choose friends who also read avidly while poor readers seek friends with whom they share other enjoyments". Interaction with word-rich students is likely to have a knock-on effect for those less secure in their spoken language abilities. As Myhill and Fisher pointed out in an Ofsted commissioned report:
… spoken language forms a constraint, a ceiling not only on the ability to comprehend but also on the ability to write, beyond which literacy cannot progress. Myhill and Fisher
(2005)
As teachers, we have a raft of reading skills that we are unlikely to think about very much. Rather like the act of driving a car, after a certain period of time we become 'unconscious competents' at it and can barely remember how we got from one destination to another. Of course, it wasn't always like that (certainly not when we were taking a driving test), and, for many learners in school, reading is much the same. Our own reading fluency as teachers gets in the way of recognising that for some students the effort spent negotiating the meaning of the words can result in a failure to even get to comprehending those bigger questions of audience and purpose.
Thus, it is essential that all teachers are using the same reading strategies to help students deal with texts. We start with skimming and scanning: it should be a whole-school policy that all teachers understand the difference and can be precise in their instructions to students about which to do and when. 'I'd like you to read this passage' is an instruction that may superficially look straightforward. It's useful for teachers to understand, for example, that when we quickly scan a piece of text we need only to actually read a few words before we can work out whether it is, for example, fact or fiction. It's less easy if students haven't built up a repertoire of reading widely and working out how texts achieve their effects. In all subjects, therefore, teachers need to present explicit knowledge about a wide range of texts, their key features and how their structures can be modelled – ideally by the teachers themselves. This ensures that students struggling with their verbal skills are shown precisely how to create these different writing structures, thus leaving them with more time to develop quality content, having mastered the key structural features first.
As indicated above, middle- and high-school leaders and departmental heads may wish to audit their use of a range of cross-curricular text types using a simple template that identifies the key features of some key text types. They can then ask subject teachers when and how often they use them.
It's likely that some key features of even seemingly disparate texts will be common across different subjects. For example, a recipe and a science report may seem to be unlikely bedfellows, but both have very similar features. These include beginning with an aim or goal, followed by a list of what is needed and then clear instructions on the method. Technically, both will be written in chronological order using imperative verbs (mix the milk and flour; warm the test tube) and there may well be illustration for some of the process. There will certainly be a conclusion showing a final serving suggestion for the recipe and comments on whether the science experiment was successful. There are, of course, many significant differences between these two texts, but the understanding that there are shared common elements in both will result in better comprehension of a reading text and a more well-constructed piece of writing as an outcome.
Providing and using lists of these common language features (usually identified at word, sentence and whole-text levels) helps teachers to explicitly share what might have been secret structural knowledge and so 'levels the playing field' for those spatial bias students struggling to see beyond the meaning of a text.
Further, good oral skills do transfer into good writing skills: writer Robert Macfarlane has asserted that "every hour spent reading is an hour spent learning to write" and this would appear to hold true according to recent research.
As we have already indicated, the knowledge and understanding students acquire, regardless of the subjects studied while they are at school, is, at various points, assessed through writing. Even reading skills are assessed through a written response. As students get older, this becomes ever more important. The demands on students to do well in written examinations will characterise their level of achievement in all subjects, including those such as dance, drama, art and PE which may not have included assessment of this kind previously
We also know that students experience more problems with writing than they do with speaking or reading. Attainment measures across the world tend to indicate that writing skills and outcomes lag behind the other language modes. A 20% gap in achievement is typical. There are also differences between boys and girls, with girls usually doing better than boys. The background questionnaire for the 2009 Programme for International Student Assessment (PISA) report contained these two significant pieces of data:
In all countries, students who enjoy reading the most perform significantly better than students who enjoy reading the least.
The gender gap in reading engagement has widened, as well as the gender gap in reading performance.
For some countries, the message is even more stark. For example, out of the 32 countries worldwide that took part in the 2000 PISA survey, the achievement difference in reading literacy between students who never read for enjoyment and those who read for an hour or two each day was greater in Australia than in any other country
Bloom's Taxonomy and higher-order thinking skills
Bloom's Taxonomy of Educational Objectives (1956) will be familiar to most teachers from their initial teacher training courses. Many teachers may be using a version of the Taxonomy in their classrooms to promote higher-order thinking skills. However, as recent research has indicated, the idea that thinking is sequential or hierarchical is problematic. The problem is that both versions of the Taxonomy suggest that these hierarchical processes are both discrete and in a clear order of difficulty, with 'remembering' at the bottom and 'creating' at the top of a pyramid structure.
The first point is to acknowledge that neither versions of Bloom's pyramid were used by Bloom himself. The co-author of the revised Taxonomy made this clear:
I believe that the triangular representation was developed in order to indicate that, in the original Taxonomy, the six categories formed a cumulative hierarchy. That is, it was believed by the authors of the original Taxonomy that mastery of each lower category was necessary before moving to the next higher category. For example, you have to comprehend something before you can apply it.
Anderson (2017)
But, as other writers have indicated, sometimes the hierarchy idea that places knowledge or remembering at the bottom is simply not true. Berger has a good real-world example of how knowledge can actually be the most important skill:
There are many learning situations where knowledge/ remembering is actually the most important skill (e.g., I would not want to go hunting for mushrooms with someone who has a poor memory of edible and poisonous species). Also, students cannot analyse or evaluate anything if they don't know facts and evidence.
Berger (2018)
So, there is no clear distinction between lower- and higher-order thinking skills, and the skills are neither discrete nor hierarchical. However, this is not to say that Bloom's Taxonomy has no purpose – indeed, many teachers find the questions that can be generated from Bloom's nouns/verbs really useful in the classroom to develop their own questioning techniques and remind them to dig deeper: Can you tell me the main idea in your own words? How does this compare with…? What do you think would happen if…?
There is one final aspect of the Taxonomy that relates directly to the strategies teachers will be using in the classroom. A learner's journey is not linear in the way the pyramid might suggest. Berger provides some useful examples:
When adults set out to learn something new – let's say Spanish, meditation, Adobe Photoshop, or woodworking – we certainly have to learn facts and remember things. But we also quickly realise that we have little understanding until we have actually tried to speak, read, or write Spanish; practice meditation; edit photos; or build a shelf. In other words, we have to apply and create in order to understand. The creation process is where we construct deep understanding.
This is the same for our students. We may 'teach' students to write a persuasive essay by having them remember the elements of an essay through a lecture or a rubric. We may assume then that they understand this skill. But I would argue that they have no real understanding of how to write an essay until they have applied their knowledge and created an essay themselves. Additionally, they need to analyse and evaluate the first draft of their essay, along with models of other essays, to build an understanding of what represents quality in that genre so that they can revise and improve. This integrated, circular, iterative process is how learners build understanding.
Berger (2018)
This is significant and goes back to the understanding about modelling identified earlier by Rosenshine (2012) (see the below average no bias profile of Elena Mazzoni on page 38).
Thus, the emphasis for teachers should not be on what thinking skill to focus on, or how to work from the bottom of the pyramid to the top. Rather, teachers should aim to match the thinking skills and activities chosen with the desired learning outcomes, take into account the information they have gleaned from individual CAT4 student profiles and use modelling and scaffolding strategies that give students like Niamh Ernst the best opportunity to achieve those outcomes.